About Red Jacket Course
Are you ready to earn your Red Jacket?
There is no getting around the fact that trading is a tough business. Our free preview provides a flavour of what you can expect from the Norden Method as well as an examination of why so many retail traders continue to fail. 
Because we truly wish for everyone to make an informed decision, we require that you watch our preview series in full before we offer anything to purchase from the Norden Method.
Mindset: In this video, we will examine and explain the mindset that is required of Norden Method traders
Method: In this video, we explain why, with 90% of retail participants losing, we seek a different way to trade.
The pathway to professionalism once available to traders of lore no longer exists
The techniques of
Locals
, those certified to trade on now closed exchange floors with their own money, have been steadily lost over time…
"We teach traders to play a different game, a professional one, based on old-school market making techniques adapted for modern electronic futures."
-Gary Norden, Founder
About Gary Norden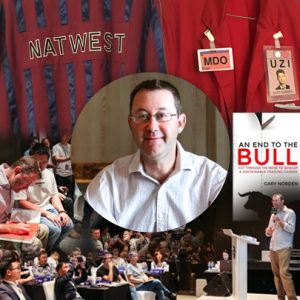 Gary Norden not only earned the coveted Red Jacket of a LIFFE Local, but also led the derivatives desks for some of the world's largest investment banks in a career that has spanned over three decades. He is the author of many notable books, such as An End to the Bull: Cut Through the Noise to Develop a Sustainable Trading Career, Technical Analysis and the Active Trader. Moreover, Gary Norden is also the founder of an online platform called nordenmethod.com, which provides educational programs about trading techniques and strategies. There are many online courses and trainings that are designed for every level of trading, which makes it easy to find the most suitable courses to level up your skills and knowledge as well as gain the consistency of trading profitability.